This 4th of July, the family road tripped it up to PA to spend the weekend with DH's cousin and his family. Although the drive up was absolute torture because the boys were miserable, even before we got in the car, and with holiday traffic, the 4 hour long drive took over 6 hours, we made it there in one piece and without having to drop our kids off on the side of the highway! And the weekend was a total success. The boys were fantastic, and DH's cousin's youngest son had a bin full of toys that definitely came in handy.
Despite being nervous about how exhausted I would be a after spending a weekend away from home--because it's always more work--I ended up not having to lift a finger all weekend, and with two extra adults around to entertain the boys, it truly felt like a vacation. I loved it! And I definitely didn't want to come back home!
For me, the best part of the weekend was going for a two hour motorcycle ride on the back of DH's cousin's beautiful (and patriotic!) Harley, which included a pit stop at Michael's so I could run in and buy some more yarn for a hat I was working on!
DH comes from a family of motorcycle riders, and the young couple pictured on the front of his cousin's bike is DH's grandparents. What a wonderful family tradition! DH has been wanting a bike for years, but once we we're actually able to afford one... Well, two little boys came along, so realistically, it'll probably be quite some time before he gets one, but I hope he does because A) it's part of his family history, and B) I wouldn't mind riding on the back hanging on to to my handsome DH! ;-)
So the yarn I picked up really could have waited until I got home, but the relatives were fascinated with what I had been working on that weekend and wanted to see where the hat was going. And having so much time for myself, I got more knitting done than I had anticipated and packed for. One of DH's favorite games--and I have to admit that I really enjoyed them as well before the boys were born--are the Ratchet and Clank games. Ratchet is a make-believe animal called a lombax and Clank is his best buddy, a robot with a soul. ;-)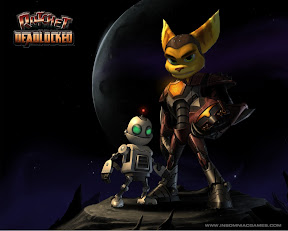 So I'm working on Ratchet and Clank hats for the boys! Charlie is definitely silly Ratchet and and my Lincoln is the more serious Clank. ;-) I'm writing up patterns for the hats, so it'll be a little while before I share them, but the first prototypes are almost finished. I've already noticed a couple of things with both hats that I want to tweak for the final pattern, but hopefully, it won't be long before I have a couple of new pattern to share!
- Posted from my iPad